Reviews
N.MacDonald: The lacy knit hat just arrived and I'm more than pleased. The hat fits perfectly and matches my new plum coat perfectly. And such fast turn-around! I will wear my new coat and hat for the first time this evening for a holiday event. Your timing is perfect!
Reviewed by A Baker
A.Baker: Nancy Thank you for the great Neck Scarf, it arrived Saturday but my husband picked up the mail and left it in his truck till Monday!!! (men) it is perfect! Love the design and the buttons!
Reviewed by Cythia on March 5, 2015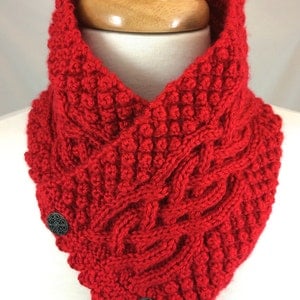 I just love my beautiful neckwarmer. It is gorgeous and everything about it is perfect. Nice workmanship! Thank you...Cynthia
---
DoubleSJewelry on 11/22/2014:
Thank you for custom making the two beautiful neck warmers for me! They are quite lovely.
---
---
---
---
---
---
---
Luxurious and very stylish hand knit hat arrived very quickly with perfect communication at every stage of the shipment.
---
---
---
raeoflight on 11/30/2013:
Just awesome quality and craftsmanship! Thank you!
---
c0nfus3dgurl on 11/22/2013:
I am incredibly happy with my purchase! The earwarmer is ever cuter in person! It is high super thick and high quality! Nancy shipped the next day and has great communication! I HIGHLY recommend! :)
---
---
Patron212060 on 05/14/2013:
Thank You! Love the first one so much had to have another!
---
Patron212060 on 05/14/2013:
Thank You! This is just perfect & Fits beautifully!
---
---
Patron205244 on 04/10/2013:
This is a work of art & the most gorgeous jewelry that I have seen in my extended searches for amazing & stunning jewelry. I was ex tactic when I saw this bracelet to match perfectly with a sundress, and the seller was amazing & so professional. I am giving a 10 star rating for the entire experience, I felt blessed and so lucky to have found both a great seller and high quality work. Thank you ! A
---
---
---
---
---
---
---
---
---
---
---
---
---
---
---
---
---
---